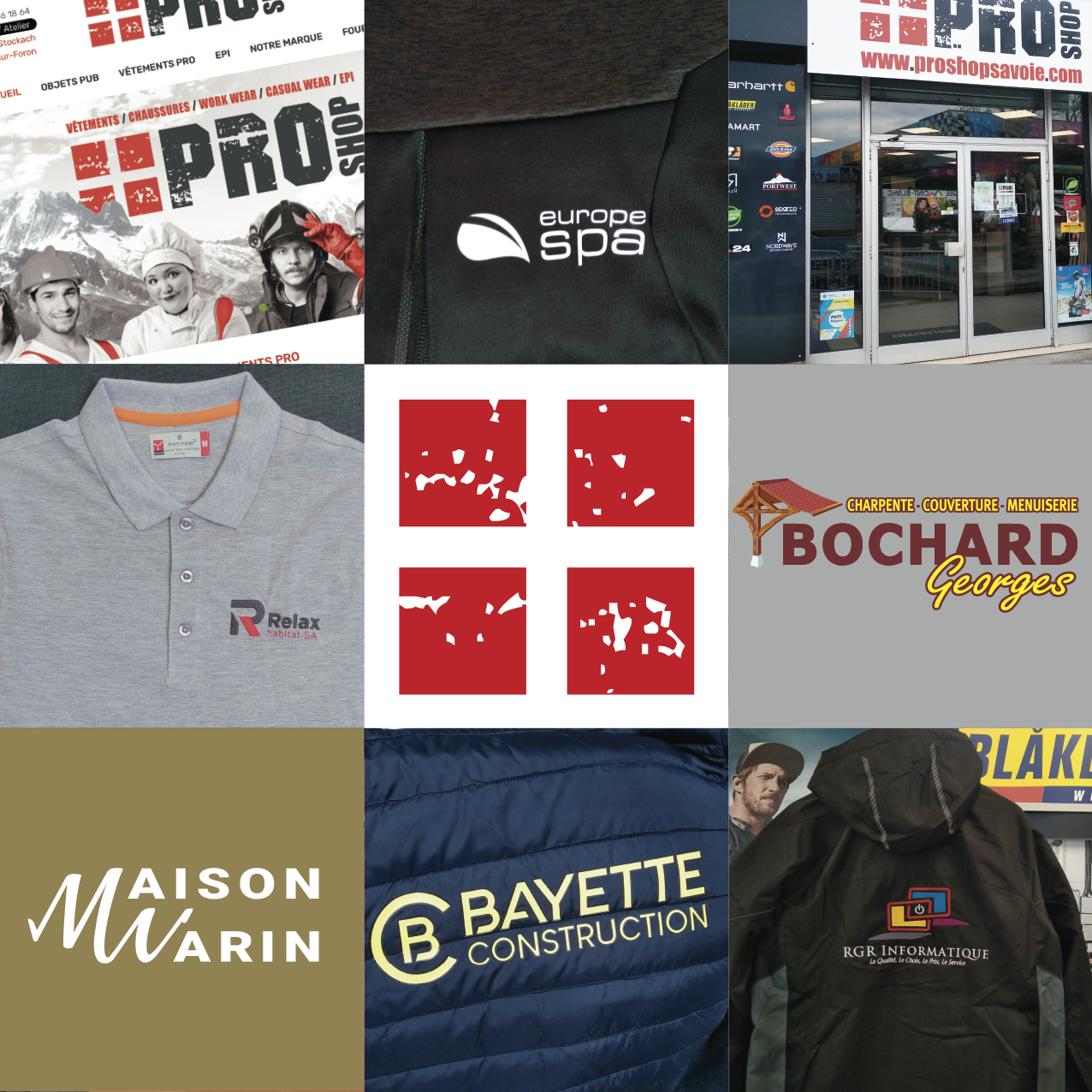 The spirit PRO SHOP DES SAVOIE:
Whether you are a business, large or small, an association or an individual, you need protective equipment or technical clothing, or visual design needs, or convey your image, your logo in the best way ... To your needs; we bring you our Expertise, which will allow you to choose the most suitable solutions for your activity. At PRO SHOP DES SAVOIE, we listen to you, guide and accompany you for all your projects:
IMAGE: creation of your logo, corporate image, graphic retouch of your logos, makeover of your brand.
- Graphical charter
- Design of your communication media (Website, brochures, flyers, business cards, catalogs, commercial documents, posters ...)
- Optimization of your presence on all media, digital media and hardware.
Clothing:
Professional and technical clothing related to your profession, your professional or sporting activity as well as for corporate or advertising clothing.
We choose the best brands to combine price, performance and responsiveness.
PPE: Personal Protective Equipment.
We will guide you to equip you with the best products and accessories in compliance with the standards in force to guarantee your safety.
Our experts take care of the regulations to offer you products for sale always compliant with European standards.
Our PRO SHOP spirit is Advice, Service, Proximity, and Responsiveness
Tip: We attach particular importance to the concept of counseling. You bring the best product suited to your business is what drives our experts.
Service: We wish to bring you the most accomplished services (Samples, Cloakrooms, exchange, Markings of clothes ...)
Proximity: to be the most available for our customers, in order to bring you the best level of service.
Reactivity: We make every effort to respond and deliver as quickly as possible.
We do our own clothing markings; we also take care of the additional tasks of preparation of order, packages and related tasks (Retouches ...)
You will understand, this trio; Graphics, Marking Workshop and Professional Store (with Stock) allow us to respond to your request in a very short time.
So do not wait, come on, push our door, two simple things will be proposed, a welcome coffee that will be served with a smile, and it has no price.
The PRO SHOP DES SAVOIE team